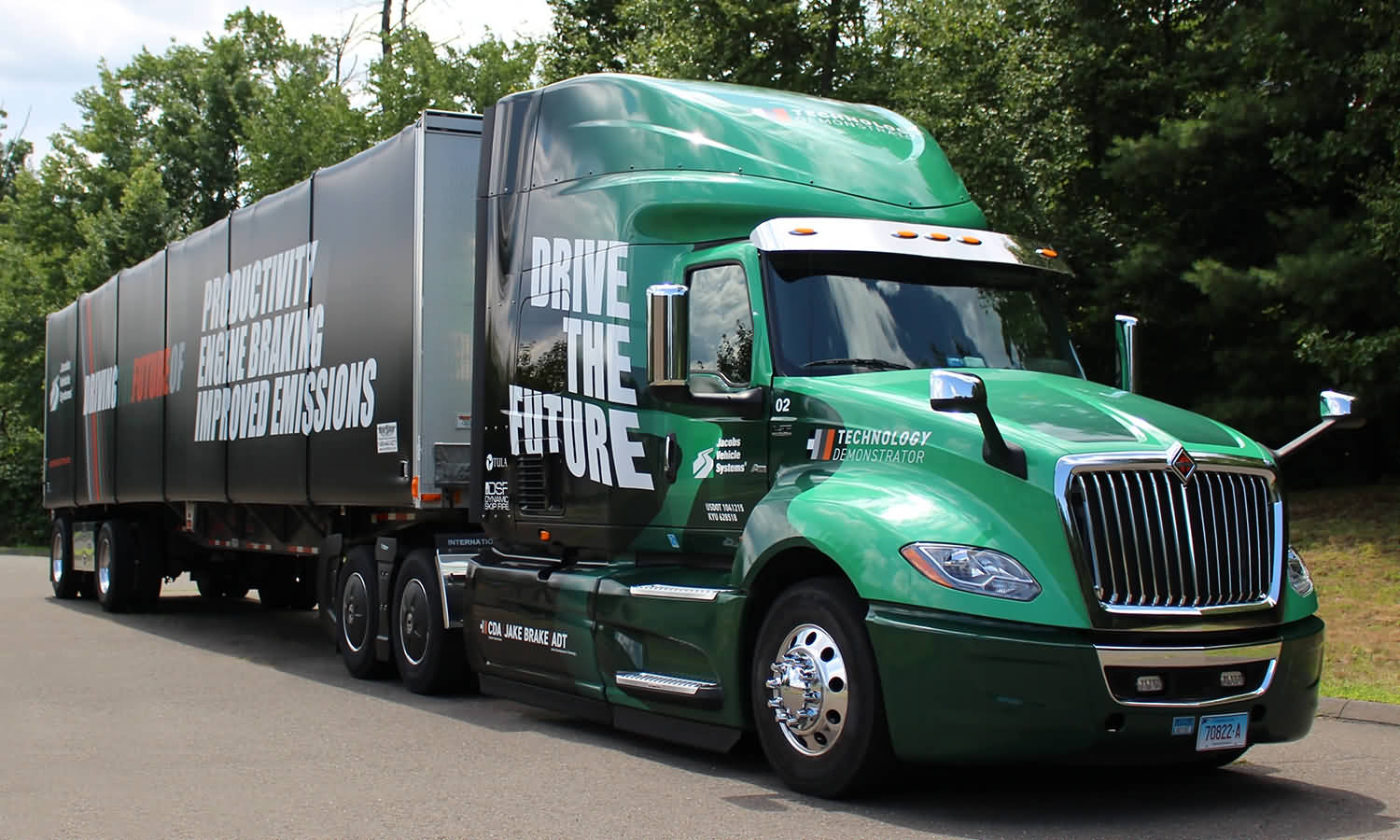 Jacobs Kicks Off Technology Tour
Cylinder deactivation and active decompression technologies to be featured on Jacobs' DRIVE THE FUTURE road demonstration vehicle.
BLOOMFIELD, CT, USA — Jacobs Vehicle Systems' newest demonstration truck has begun its 2022/2023 North American Technology Tour. The vehicle will present fleets, drivers, industry associations, and original equipment manufacturers an opportunity to experience firsthand the value and performance features of two of Jacobs' latest valvetrain technologies – Cylinder Deactivation (CDA) and Active Decompression Technology® (ADT®).
The custom-built International LT625 tractor with an A26 diesel engine will be subjected to a multitude of real-world driving situations in the coming months, according to Jacobs, to fully verify the fuel-saving, emission reducing, industry-best braking performance, and enhanced driveability benefits of CDA and ADT.
"We're excited to begin this important tour," said Steve Ernest, vice president of engineering & business development at Jacobs. "We will be working with a wide variety of important commercial vehicle shareholders in the coming months to schedule test drives to demonstrate and showcase our latest technologies."
Jacobs' Cylinder Deactivation is a modular valve actuation technology that improves fuel efficiency by turning a six-cylinder engine into four-cylinder or less, potentially improving the overall fuel economy by as much as 25 percent. Jacobs' CDA reduces emissions by achieving higher exhaust and aftertreatment temperatures at low-load and start-up.
Jacobs' Active Decompression Technology enables heavy-duty commercial vehicles to benefit from an engine stop-start system to eliminate engine-shake at both start-up and shutdown. ADT also improves cold engine starts, reduces loading and wear on engine components during start-up, and makes start-up faster. In hybrid vehicles, ADT enables a faster transition from an electric motor to an internal combustion engine.
"In all parts of the world, commercial vehicle manufacturers are looking for new and improved technologies to comply with stricter legal limits on CO2 and NOX emissions," said Robb Janak, director of new technology for Jacobs. "Cylinder deactivation is technically proven in all of the latest test measures. Moreover, CDA is a cost-effective solution that will positively impact the advance of the diesel engine into a low emissions future."
Janak continued, "Our ADT system is a simple, cost-effective design that eliminates the negative impacts of engine shutdown and restart such as excessive cab vibration and starter wear out, while simultaneously helping to significantly reduce energy consumption."
Bild: © Jacobs Vehicle Systems

About Jacobs Vehicle Systems
Jacobs Vehicle Systems is headquartered in Bloomfield, Conn., where it has a 25,000 square meter design, testing and manufacturing facility, with support sites in Europe, Japan, and India as well as a manufacturing facility in Suzhou, China. Jake Brake® products are used by heavy and medium-duty diesel engine manufacturers globally. Registered to the ISO 14001 and IATF16949 standards, Jacobs Vehicle Systems is the world's leading producer of vehicle retarding and valve actuation technologies and can be found at jakebrake.com.