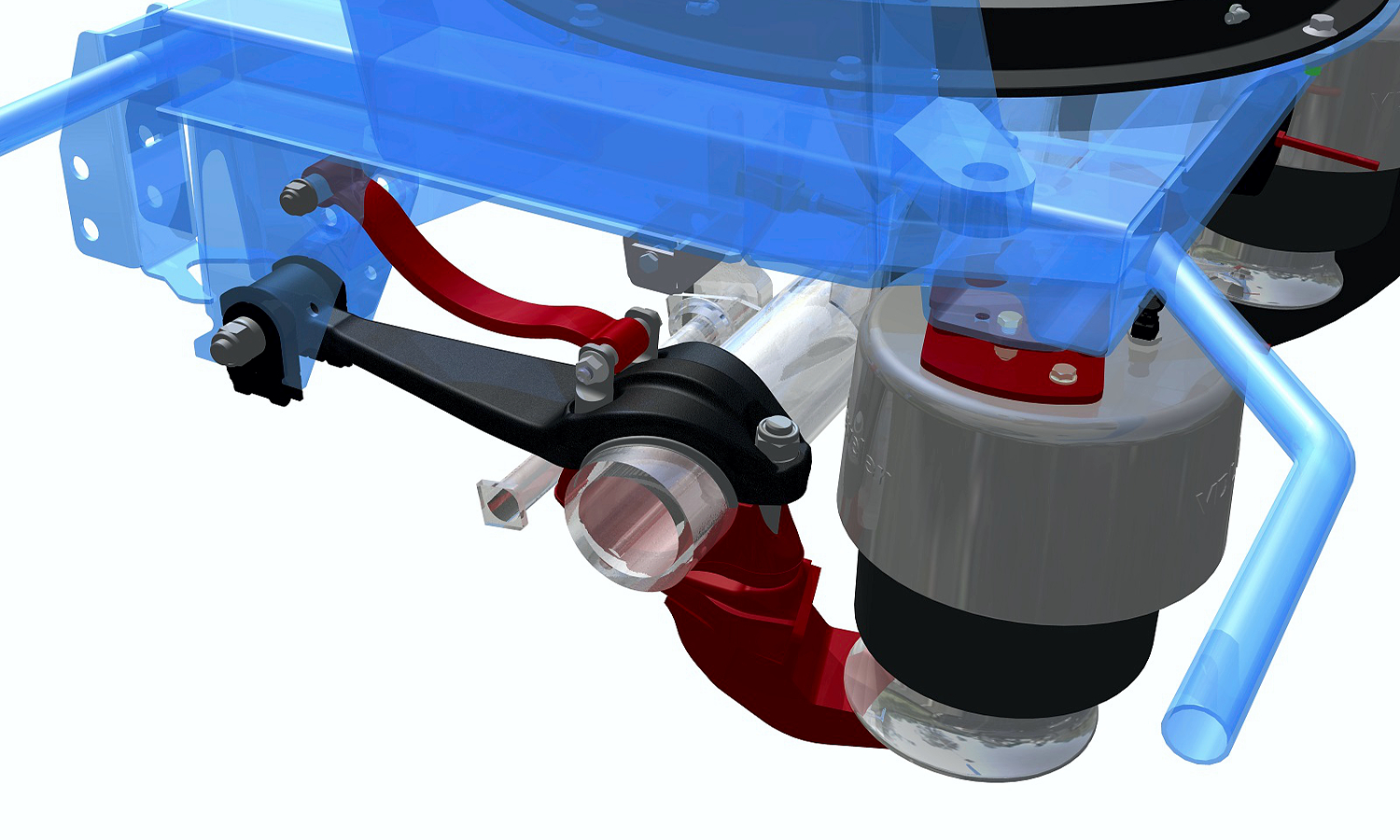 New Air Damping Technology offers reduced maintenance costs, load proportional damping, better fuel efficiency and reduced tyre wear
The Firestone Air Damping system dramatically simplifies a commercial truck's suspension system by combining spring and damping into the trailer's suspension air spring. The new technology offers proper trailer damping, including both body and axle control, with a single, integrated product.
Reduced maintenance costs
Simpler lighter system ⇨ increased payload
Improved fuel efficiency
Improved tire life
No hydraulic fluids
ARNHEIM, Netherlands – The first time presented at IAA 2016, the Firestone Air Damping system has proven its advantages in several field tests and won the 2nd place in the TRAILER innovation 2017 award, category components. The system simplifies a commercial truck's suspension system by combining spring and hydraulic damping into the trailer's suspension air spring. The system is engineered with patented technology that enables true body and axle control with no additional moving parts. This ensures optimum maintenance and wear properties on the truck's suspension components and tires, regardless of if the trailer is empty or fully loaded.
Traditional suspension systems are based on separated spring and hydraulic damper units. Hydraulic damper modules are subject to wear as they suffer from environmental influences, resulting in reduction of damping characteristics during the life of a trailer. Earlier presented air damping technology eliminates the separate damper unit, but only provides damping in a limited frequency range. Typically this is optimised for control of trailer body movement. In this case, the control of axle movement is compromised, leading to undesired forces on suspension elements, trailer chassis and tires.
With the Firestone Air Damping System for the first time complete damping characteristics have been successfully integrated into the air spring suspension of a trailer. In a three year unique collaboration program by VDL Weweler and Firestone the system was developed from proof of concept to a market ready product. Firestone-Weweler are the first to market multi frequency trailer air damping in Europe.
Features
Firestone proprietary Air Damping offers multi frequency damping by regulated air flow through 3 chambers
Damping of both body and wheel motions ensures good dynamic behavior:

Low speed air flow to control body motion (1 - 2 Hz)
High speed air flow to control axle motion (10 - 15 Hz)

Load proportional damping (optimum damping in different loads)
Constant damping in operating life of air spring (no wear of damping components)
By making use of air as a damping medium and multiple volume principles, the Firestone Air Damping Module offers load proportional damping in both the chassis and axle motion range. This ensures optimum wheel to road contact in all loading conditions and undesired oscilications on suspension and chassis are minimized. The result is minimal wear properties on suspension related components in all trailer load conditions, ranging from full to half laden to empty trailers. This is in contrast to the functionality of the traditional damper which is typically specified for the worst load condition only. This effectively overdamps in empty/half laden trailer conditions and negatively impacts the life of suspension and axle elements, the chassis and tires.
The benefits of the technology are many, and all add up to lower total cost of ownership and less overall wear on the vehicle. Because Firestone Air Damping technology was designed around an absolute minimum number of components, it allows for longer maintenance cycles and is not subject to the same level of environmental wear as traditional hydraulic damper modules. And since Firestone Air Damping is a lighter weight alternative to traditional damping systems, fuel economy or payloads can be increased.
Easy installation
An important consideration is the serviceability of the module. The product can be fitted as a normal air spring. It does not require any special instructions for first installation or use. Replacement can take place in a normal workshop.
Modular concept
The system concept is modular and can be designed to fit in different configurations. It can be integrated in one single module replacing the air spring and damper unit. This allows back to back installation on current trailers. There are also external configuration options for integrating with other elements of the suspension or the chassis. This way it can be used on various trailers with different packaging such that it best fits specific trailer applications.
Image: © Firestone Industrial Products. VDL Weweler suspension with Firestone Air Damping System.
About Firestone Industrial Products Company, LLC
With a history of more than 75 years of research and development, U.S. based Firestone Industrial Products Company, LLC, specializes in manufacturing technologically advanced air springs for the global marketplace. Firestone Industrial Products manufactures air springs and related products for a variety of applications, including: commercial trucks and trailers, cars, sport utility vehicles, electric vehicles, light trucks, mini vans, motor homes, buses, agricultural equipment, rail and industrial applications. The company has quality-certified manufacturing/assembly plants and technical centers in North America, Latin America, Europe and Asia. For more information, visit www.firestoneip.com.