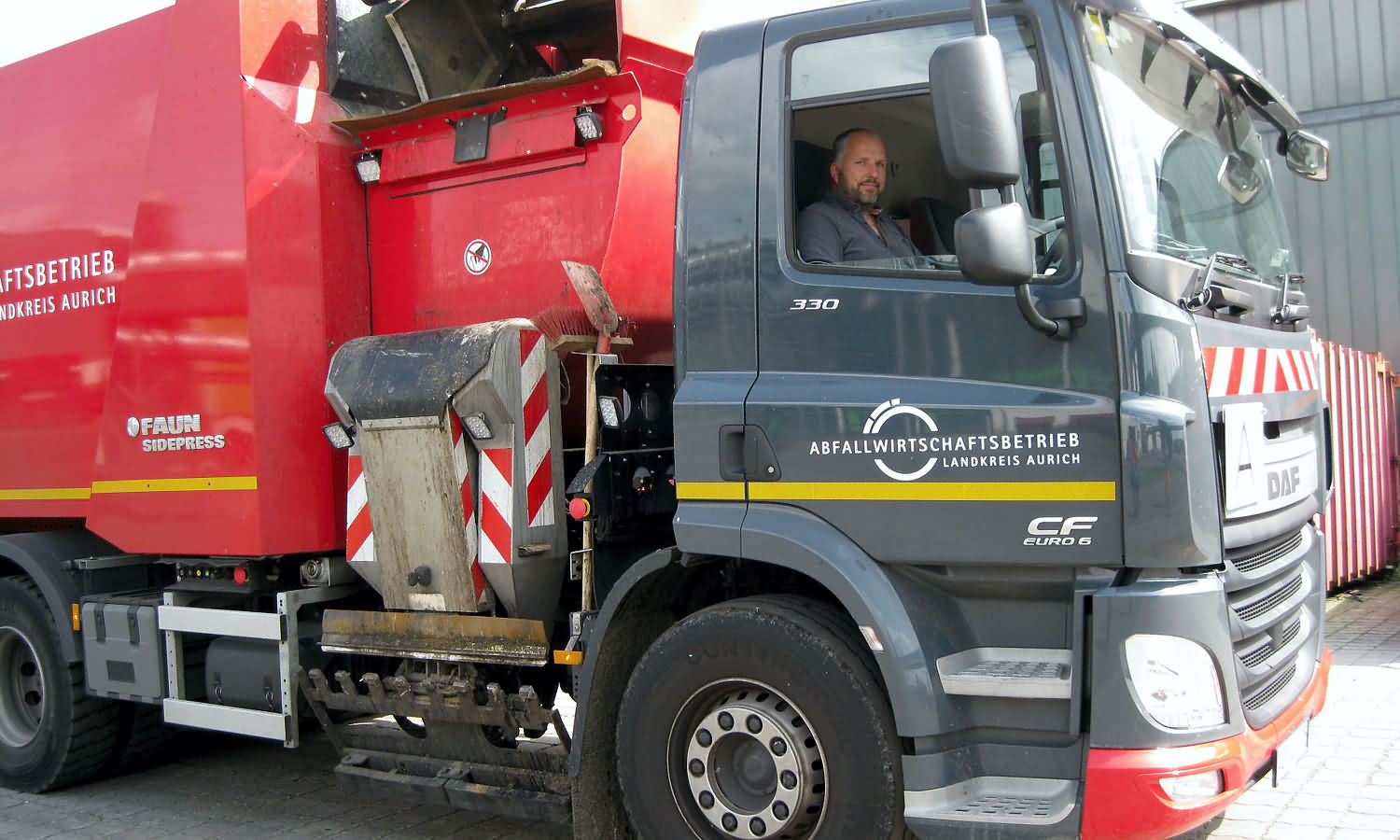 Aurich waste company improves productivity with Allison-equipped DAF side-loader vehicles
With approximately 1,200 refuse bins emptied per shift in one-man operation, MKW-operated trucks with Allison fully automatic transmissions are cost-effective and efficient.
AURICH, Germany – The waste management company for Aurich bought its first 10 Allison transmission-equipped vehicles in 2011. The DAF CF 75 side-loader models with HS body use the fully automatic 3000 Series™ for greater durability, productivity and reduced maintenance costs.
"We are really satisfied with the vehicles," said Carsten Appelhoff, technical fleet manager at MKW (Materialkreislauf- und Kompostwirtschaft) GmbH. "Thanks to the Allison transmissions, the vehicles can easily endure the tough operating conditions with more than 1,000 stops per work shift. An automated manual transmission (AMT) would have the greatest difficulties."
Since 2011, the fleet has expanded to 19 DAF CF side-loader vehicles. The latest addition, with Faun Sidepress body, was put into service only a few weeks ago. The 26-ton vehicles with a steered rear axle and 10.8 liter engine, empty the refuse bins of 100,000 households on the East Frisian mainland – a rural region – in one-man operation. The vehicles accumulate annual mileage of approximately 30,000 km and 1,800 operating hours.
"Our decision for fully automatic transmissions has really paid off," said Appelhoff. "They really speed up our work: in a nine-hour work shift we are able to empty around 1,200 refuse bins; in individual cases, we even empty 1,500."
In addition to the robust drivetrains of the vehicles, Appelhoff especially appreciates the availability and cost-benefit ratio of its workshop partners.
"If I take a look at the maintenance costs of my vehicles, I know we made the right decision," said Appelhoff. "The only required maintenance for the transmissions is the routine oil and filter change. Authorized Allison dealer Kronenberg Getriebetechnik is in charge of preventive maintenance, in close cooperation with Bohlje Kraftfahrzeuge, our DAF partner."
In terms of fuel consumption, the vehicles are also a cost-effective choice. "With comparable engines and working conditions, the fuel consumption of our DAF side-loaders with Allison transmissions is about 10 percent lower than for our refuse vehicles with AMTs."
Allison transmissions use a patented torque converter instead of a traditional dry clutch that eliminates the need of traditional clutch repair and replacement like it is necessary for manual and AMTs. Allison's torque converter smoothly multiplies engine torque during start-up and acceleration and provides the drivetrain protection against torque shock and vibrations. This feature also allows precise vehicle control for exact alignment with bins and containers, driving on confined space and working at extreme low speeds. Allison automatics deliver seamless uninterrupted power shifts for increased average speed and productivity and operator's comfort.
Image: © Allison Transmission. The refuse fleet serving Aurich operates 19 DAF CF 75 side-loader vehicles, equipped with Allison 3000 Series™ fully automatic transmissions.
About Allison Transmission, Inc.
Allison Transmission (NYSE: ALSN) is the world's largest manufacturer of fully automatic transmissions for medium- and heavy-duty commercial vehicles and is a leader in hybrid-propulsion systems for city buses. Allison transmissions are used in a variety of applications including refuse, construction, fire, distribution, bus, motorhomes, defense and energy. Founded in 1915, the company is headquartered in Indianapolis, Indiana, USA and employs approximately 2,600 people worldwide. With a market presence in more than 80 countries, Allison has regional headquarters in the Netherlands, China and Brazil with manufacturing facilities in the U.S., Hungary and India. Allison also has approximately 1,400 independent distributor and dealer locations worldwide. For more information, visit allisontransmission.com.