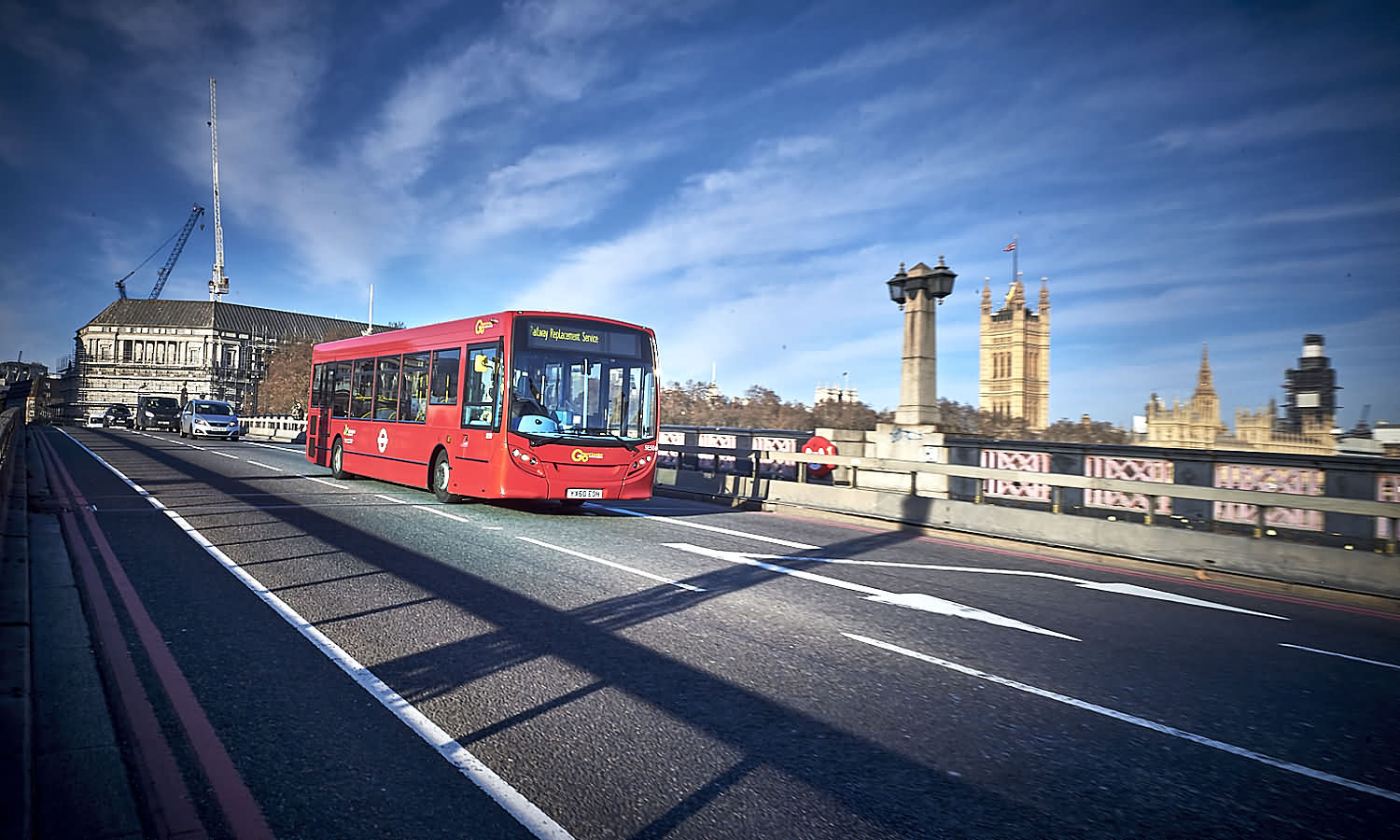 London bus trial confirms fuel savings after retrofitting Allison's xFE transmission
Alexander Dennis Limited (ADL) backs UK customer transmission upgrade programme following Go Ahead London's up to 7.13% fuel saving on an ADL Enviro200 midibus.
LONDON – Real-world trials of a midibus retrofitted with Allison's xFE transmission hardware and FuelSense® 2.0 software are showing fuel economy improvements of up to 7.13%, and an average across seasons of 4.37%. The 15-month study demonstrates the financial savings achievable when mid-life bus upgrades include the adoption of Allison's transmission package.
The trial, which started in August 2018 and is ongoing, has measured fuel consumption during the daily working routine of an ADL Enviro200 bus equipped with an Allison T 2100 transmission. The tests have been conducted independently of Allison by Go-Ahead London, the largest bus company in the capital, and ADL, the UK's biggest bus and coach manufacturer. As a result of the consistent findings over a 15-month period, ADL has formulated an upgrade programme for UK customers running Allison Transmissions.
The Enviro200 operates out of Go-Ahead's Stockwell depot where it has covered approximately 2,400 miles per month since being added to the fleet in 2013. Fuel consumption was initially measured without xFE hardware installed and with Allison's first-generation FuelSense software, before measuring again after fitting xFE and the latest FuelSense 2.0 software. It has been proven, after 36,000 miles of testing, that updating the transmission technology in this way can cut fuel bills on this route by up to £2,000 per bus per year. If Go-Ahead retrofitted xFE and FuelSense 2.0 to each of the 14 London buses in that depot equipped with an Allison T 2100 transmission, it could cut fuel costs by £28,000 and save approximately 27,860 kg of CO2 per year.
Richard Harrington, Go-Ahead London Engineering Director, commented: "This was a realistic and rigorous trial on the roads of one of the world's busiest cities. We were interested to see how, through configuration of the transmission software, operators can choose their own balance between fuel economy and performance, and we were impressed by the fuel savings."
Allison's latest fully automatic bus transmission is named xFE because it delivers extra fuel economy in addition to the fuel savings obtained through Allison's FuelSense features. xFE incorporates a newly designed torque converter lockup clutch enabling 1st gear lock up at low speeds coupled with FuelSense 2.0 technology, making the T 2100 xFE ideally suited for transit and city buses.
Allison's FuelSense 2.0 software features Neutral at Stop and coast coupled with DynActive™ Shifting. This employs a real-time learning algorithm which finds the ideal balance of fuel consumption and performance by automatically adjusting the transmission control to the load, speed and topography.
ADL is encouraging all of its customers who currently have Allison transmissions to consider installing Allison's xFE transmission and FuelSense 2.0. This work can be done at ADL premises and at Allison dealerships, but in the first instance, interested bus operators are advised to contact ADL directly.
Image: © Allison Transmission. Real-world trials of an ADL Enviro200 midibus retrofitted with Allison's xFE transmission and FuelSense® 2.0 software are showing fuel economy improvements of up to 7.13% and an average across seasons of 4.37%.
About Allison Transmission, Inc.
Allison Transmission (NYSE: ALSN) is the world's largest manufacturer of fully automatic transmissions for medium- and heavy-duty commercial vehicles, and is a leader in hybrid-propulsion systems for city buses. Allison transmissions are used in a variety of applications including refuse, construction, fire, distribution, bus, motorhomes, defense and energy. Founded in 1915, the company is headquartered in Indianapolis, Indiana, USA. With a market presence in more than 80 countries, Allison has regional headquarters in the Netherlands, China and Brazil with manufacturing facilities in the U.S., Hungary and India. Allison also has approximately 1,400 independent distributor and dealer locations worldwide. For more information, visit allisontransmission.com.