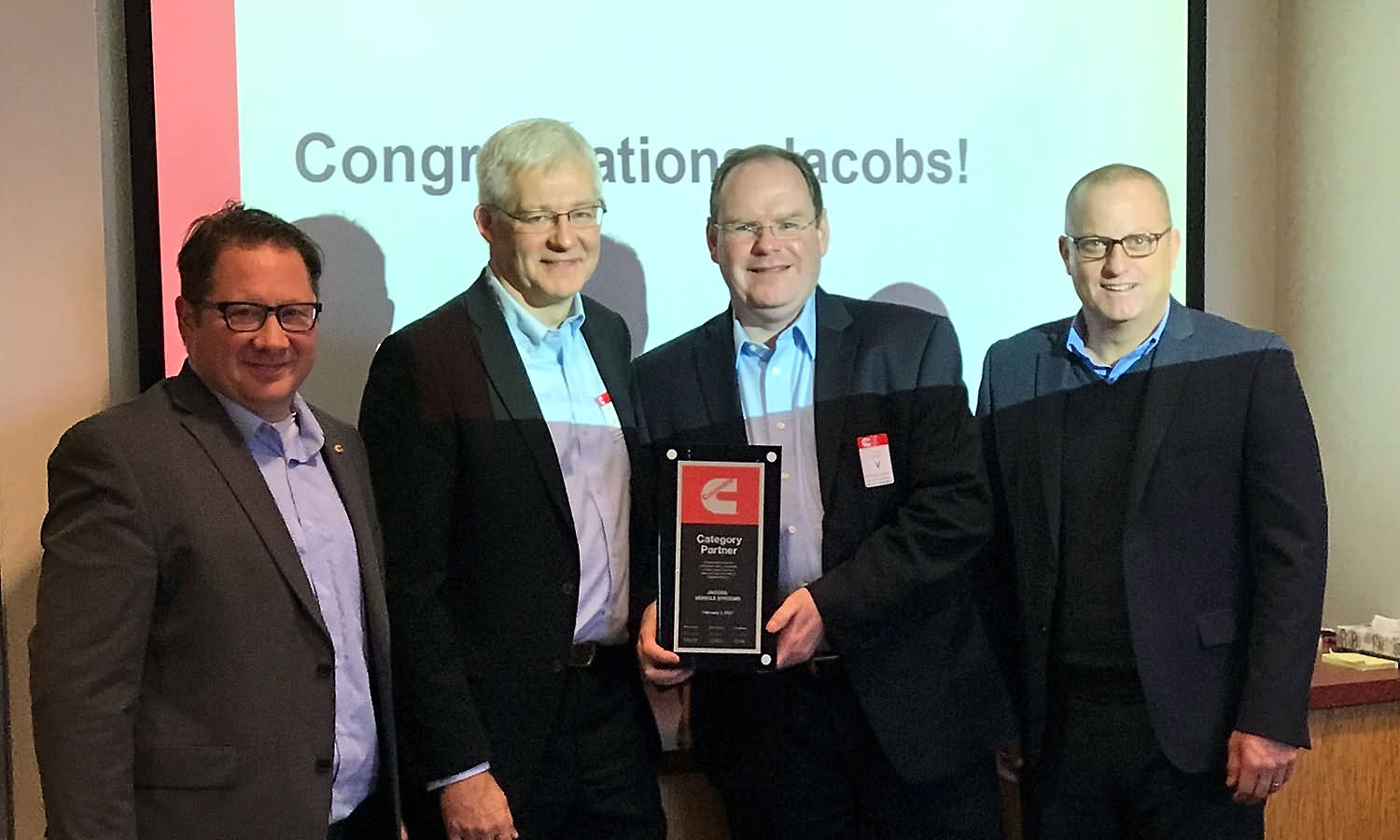 Cummins Awards Jacobs Vehicle Systems with Category Partnership
BLOOMFIELD, Connecticut – Jacobs Vehicle Systems®, the world's leading manufacturer of diesel and natural gas engine retarding systems and valve actuation mechanisms, has been honored by Cummins Inc. with the Category Partnership Award.
During a recent joint-leadership meeting, Cummins Inc. presented Jacobs Vehicle Systems (Jacobs®) with the Category Partner Award to recognize Jacobs as a world leader in engine braking technology.
"In 1961, our first engine brake sold was for the Cummins NH engine," said Dennis Gallagher, President of Jacobs Vehicle Systems. "Since then, we have collaborated with Cummins to deliver innovative products that bring high performance, quality, and reliability to the fleet owners and truckers who rely on our products. We proudly accept this award and look forward to continuing our relationship with Cummins in the future."
For over five decades, Jacobs has partnered with Cummins Inc. to deliver industry-leading valvetrain technologies for on- and off-highway vehicles. Domestically, Jacobs designs and manufactures engine brakes for Cummins Inc. for the ISL, ISX-12, and ISM engines as well as the ISX-15/X15 platform which offers the highest performance of any engine brake in North America. Across the globe, Jacobs Engine Brakes® are installed in the Cummins ISZ, ISM, and ISL engines in China and the ISL engine in India, Brazil, and Europe. In addition, aftermarket up-fit kits continue to be produced for legacy engine platforms.
Image: © Jacobs Vehicle Systems. Pictured from left to right: Scott Mann, EBU Purchasing Director, Cummins; Steve Ernest, VP Engineering and Business Development, Jacobs; Dennis Gallagher, President, Jacobs; Rod Wilson, Sourcing Director, Overhead & Power Cylinder Team, Cummins.
About Jacobs Vehicle Systems, Inc.
Jacobs Vehicle Systems is headquartered in Bloomfield, Conn., where it has a 25,000 square meter design, testing and manufacturing facility, with support sites in Europe, Japan, India as well as a manufacturing facility in Suzhou, China. Jake Brake® products are used by heavy and medium-duty diesel engine manufacturers globally. Registered to the ISO 14001 and TS16949 standards, Jacobs Vehicle Systems is the world's leading producer of vehicle retarding and valve actuation technologies and can be found at jakebrake.com.
About Cummins Inc.
Cummins Inc., a global power leader, is a corporation of complementary business units that design, manufacture, distribute and service diesel and natural gas engines and related technologies, including fuel systems, controls, air handling, filtration, emissions solutions and electrical power generation systems. Headquartered in Columbus, Indiana (USA), Cummins currently employs approximately 55,000 people worldwide, and serves customers in approximately 190 countries and territories through a network of approximately 600 company-owned and independent distributor locations and more than 7,200 dealer locations.