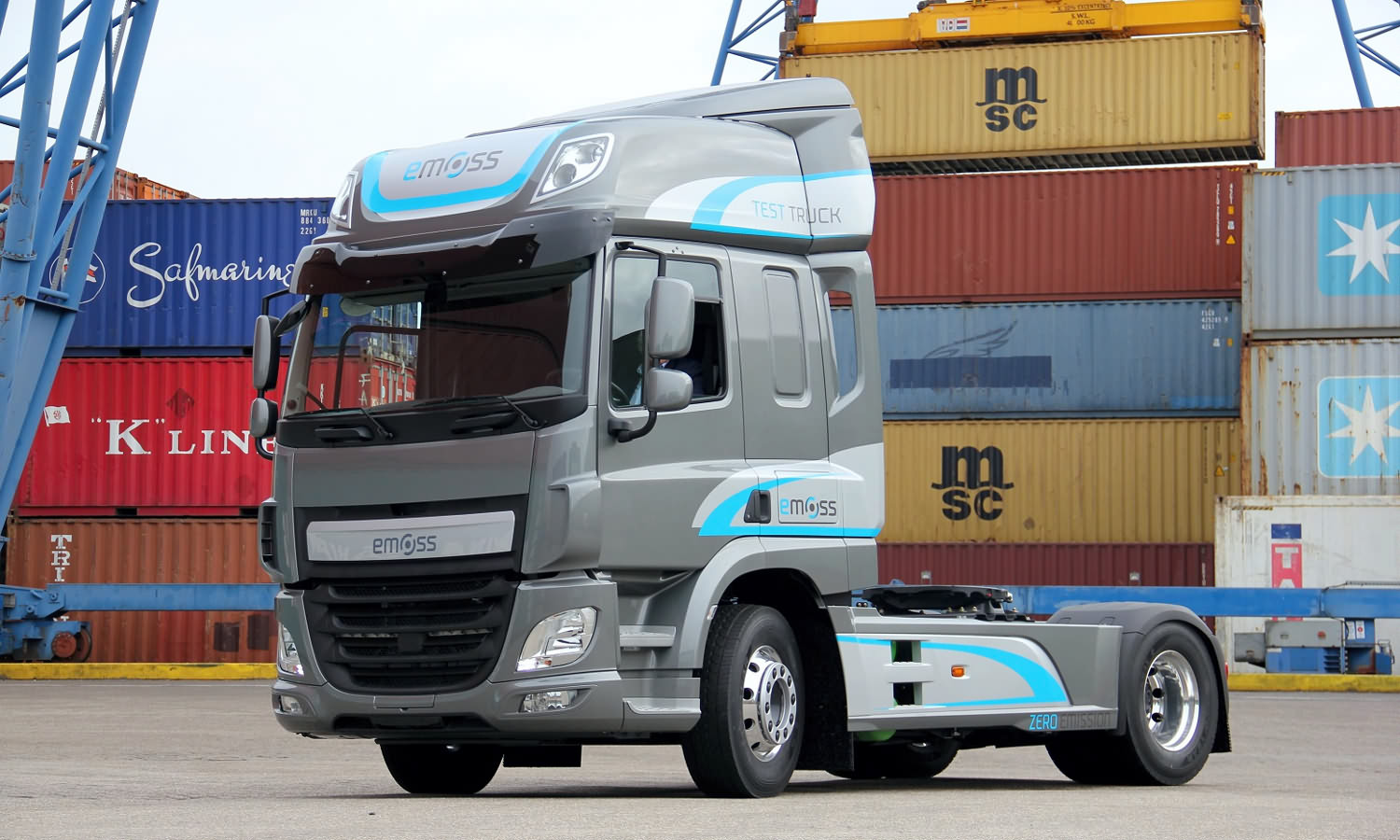 Electric vehicle manufacturer EMOSS Mobile Systems chooses Allison 4500 fully automatic transmission
European OEM uses Allison for torque multiplication to haul heavier loads, traverse steep inclines and extend battery life.
OOSTERHOUT, Niederlande – With its commitment to address emissions and noise regulations in Europe, EMOSS Mobile Systems has developed an Allison transmission-equipped electric semi-truck that has a range exceeding 300 miles.
The EMOSS Electric Vehicle with Extender Range (E.V.E.R.) semi-truck utilizes a 120 kilowatt-hour (kWh) battery pack and a liquefied petroleum gas electricity generator to recharge the battery and achieve maximum range. It is further equipped with an Allison 4500 fully automatic transmission and rated for a gross combination weight of up to 50 metric tons.
"For us, the Allison gearbox is the only combination that gets us the right performance," said Martijn Noordam, chief technology officer at EMOSS. "Customers who have driven the Allison-equipped EMOSS trucks are 100-percent happy with them. They never thought a start-stop duty-cycle on a 30 percent grade was realistic, yet the truck has executed perfectly."
Calibrated to use six forward gears when fully-laden, the Allison transmission is critical for hauling heavier payloads and navigating challenging topographies, in countries such as Switzerland and Austria, where mountains and steep slopes are frequent.
"Allison remains committed to the evolution and optimization of the drive train and all forms of commercial vehicle propulsion," said Randy Kirk, senior vice president of product engineering at Allison. "The Allison automatic provides a proven, immediate and well-integrated solution that enables electrification across a broad range of commercial applications."
The Allison automatic transmission is key to the driveline. The transmission provides torque multiplication to reduce demand on the electric motor and the battery pack. It also enables the electric motor to operate within the optimal efficiency range for a larger portion of the drive cycle, reducing energy consumption, extending the vehicle's range and facilitating the use of less-expensive, lighter and smaller components.
EMOSS unveiled the Allison-equipped E.V.E.R. truck, based on a DAF chassis, in November at the eCarTec exhibition in Munich, Germany and plans to commence testing with pilot customers later this year. In addition to the E.V.E.R. truck, EMOSS is currently developing Allison transmission-equipped electric trucks for use in construction, delivery and refuse applications. These applications include dump trucks, medium-duty straight trucks, refuse collection vehicles and additional semi-truck configurations.
With over a decade of experience in electric mobility, and its full electric powertrain development and integration expertise, EMOSS is a partner for bus and truck manufacturers. Under its own brand, EMOSS is an OEM for electric trucks, buses and vans, as well as auxiliary/battery systems.
Image: © Allison Transmission. With a range exceeding 300 miles, the EMOSS E.V.E.R. electric truck is equipped with an Allison 4500 fully automatic transmission for torque multiplication to haul heavier payloads, traverse steep inclines and extend battery life.
About Allison Transmission Inc.
Allison Transmission (NYSE: ALSN) is the world's largest manufacturer of fully automatic transmissions for medium- and heavy-duty commercial vehicles, and is a leader in hybrid-propulsion systems for city buses. Allison transmissions are used in a variety of applications including refuse, construction, fire, distribution, bus, motorhomes, defense and energy. Founded in 1915, the company is headquartered in Indianapolis, Indiana, USA and employs approximately 2,700 people worldwide. With a market presence in more than 80 countries, Allison has regional headquarters in the Netherlands, China and Brazil with manufacturing facilities in the U.S., Hungary and India. Allison also has approximately 1,400 independent distributor and dealer locations worldwide. For more information, visit allisontransmission.com.