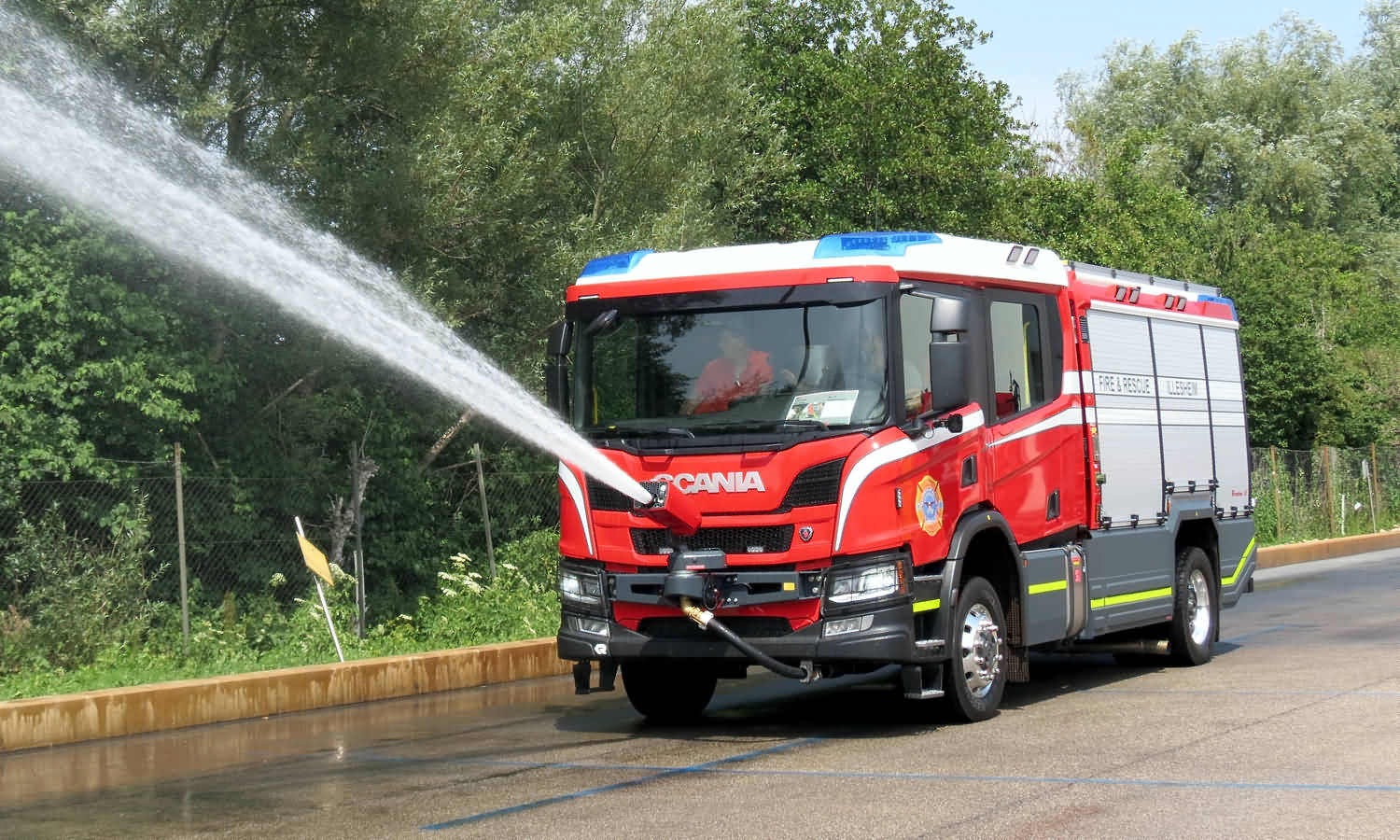 U.S. Army in Germany again chooses fire trucks equipped with Allison transmissions
A few months ago, fire departments of the U.S. Army in Germany started operating eight new Scania fire trucks (structural pumpers) equipped with Rosenbauer-body and Allison 4000 Series™ fully automatic transmission. The U.S. Army has opted for this vehicle configuration for some years now due to its advantages in terms of training, deployment and maintenance.
Sliedrecht, The Netherlands – The U.S. Army in Germany recently added eight vehicles to their fire truck fleet comprising of Scania structural pumpers P410 B4x4HZ with the new CP 31 Crew Cab. The vehicles are powered by a 302 kW (410 hp) diesel engine combined with an Allison 4000 Series™ fully automatic transmission. The vehicles will be stationed at different locations across Germany.
The U.S. Army has been procuring this vehicle configuration for 10 years now. This is partly because of the advantages provided by a standardized operational fleet in terms of staff training and vehicle maintenance, but also due to the positive experience with Allison transmissions over the past three decades.
"So far, the transmissions have fulfilled all requirements of the U.S. Army with regards to performance, operation and maintenance," said Sigurd Mack, Fire Protection Specialist at the U.S. Army Installation Management Command's European Headquarters in Sembach near Kaiserslautern. "This also applies to the integrated hydraulic retarder and the Power Take-Off with the pump and roll function. It enables us to maneuver the vehicle safely and, at the same time, operate the water pump via the Power Take-Off – which is indispensable for efficient firefighting. For our operations and emergency responses good acceleration, easy handling and robustness are essential."
According to the American NFPA (National Fire Protection Association) 1901 (Standard for Fire Apparatus) directive for firefighting vehicles, fully automatic transmissions are mandatory for heavy firefighting vehicles. In its solicitation, the U.S. Army has not only specified fully automatic transmissions, but also identified the specially designed transmission software for emergency vehicles. "A fully automatic transmission will only properly benefit the driver during operation if the shift pattern is tuned to the vehicle and the transmission works together effectively with the driver. It has to meet the specific mission for emergency response," said Mack.
Allison fully automatic transmissions differ from other technologies. Among other things, their specially developed shift calibration programs for fire services which, combined with continuous powershifting, result in improved acceleration, higher average speed, and thus faster response times.
The fully automatic Allison transmission with its patented torque converter and Continuous Power Technology™ multiplies engine torque during vehicle start-up and acceleration. Gear changes are made without interruption, resulting in the smooth transfer of power to the drive wheels and maximum efficiency between engine and transmission.
"The transmissions shift smoothly at precisely the right moment, allowing the driver to concentrate fully on the road, which contributes significantly to accident prevention," said Mack.
Allison fully automatic transmissions have demonstrated their outstanding reliability and durability under extremely difficult conditions, and are consequently used by numerous fire brigade fleets worldwide. There are currently about 70 Allison fully automated vehicles in the fire truck fleet of the U.S. Army in Germany.
The oldest Allison transmissions in the fire brigade of the U.S. Army in Germany have clocked up over 30 years of service. In 2007, the drivetrain components from twelve older Amertek 2500L trucks were removed and installed into twelve overhauled firefighting trucks, so called "glider kits." The Detroit diesel engines and the Allison HT 750 DRD transmissions of the Amertek 2500L trucks, which at that time were already around 25 years old, were fitted to a new HME 1871 SFO chassis with a body made by Hensel.
"In the USA, general vehicle overhaul is a recognized procedure for vehicle maintenance and service life extension. The engines and transmissions, especially in fire trucks, are still in relatively good working condition and have proven to be very reliable, even after a long period of time. This contributed to the decision for a service life extension," said Mack.
Compared to a new purchase, the "glider kits" helped to save approx. 80,000 – 100,000 USD per vehicle without compromising the functionality. The "glider kits" are used as multi-purpose vehicles for firefighting and for providing technical assistance.
Bild: © U.S. Army Public Affairs. In the fall of 2019, the fire departments of the U.S. Army in Germany started operating eight new Scania fire trucks (structural pumpers) equipped with a body made by Rosenbauer and an Allison 4000 Series™ fully automatic transmission.
About Allison Transmission, Inc.
Allison Transmission (NYSE: ALSN) is the world's largest manufacturer of fully automatic transmissions for medium- and heavy-duty commercial vehicles and medium- and heavy-tactical U.S. defense vehicles, as well as a supplier of commercial vehicle propulsion solutions, including electric hybrid and fully electric propulsion systems. Allison products are used in a wide variety of applications, including on-highway trucks (distribution, refuse, construction, fire and emergency), buses (school, transit and coach), motorhomes, off-highway vehicles and equipment (energy, mining and construction applications) and defense vehicles (wheeled and tracked). Founded in 1915, the company is headquartered in Indianapolis, Indiana, USA. With a market presence in more than 80 countries, Allison has regional headquarters in the Netherlands, China and Brazil with manufacturing facilities in the U.S., Hungary and India. Allison also has approximately 1,500 independent distributor and dealer locations worldwide. For more information, visit allisontransmission.com.