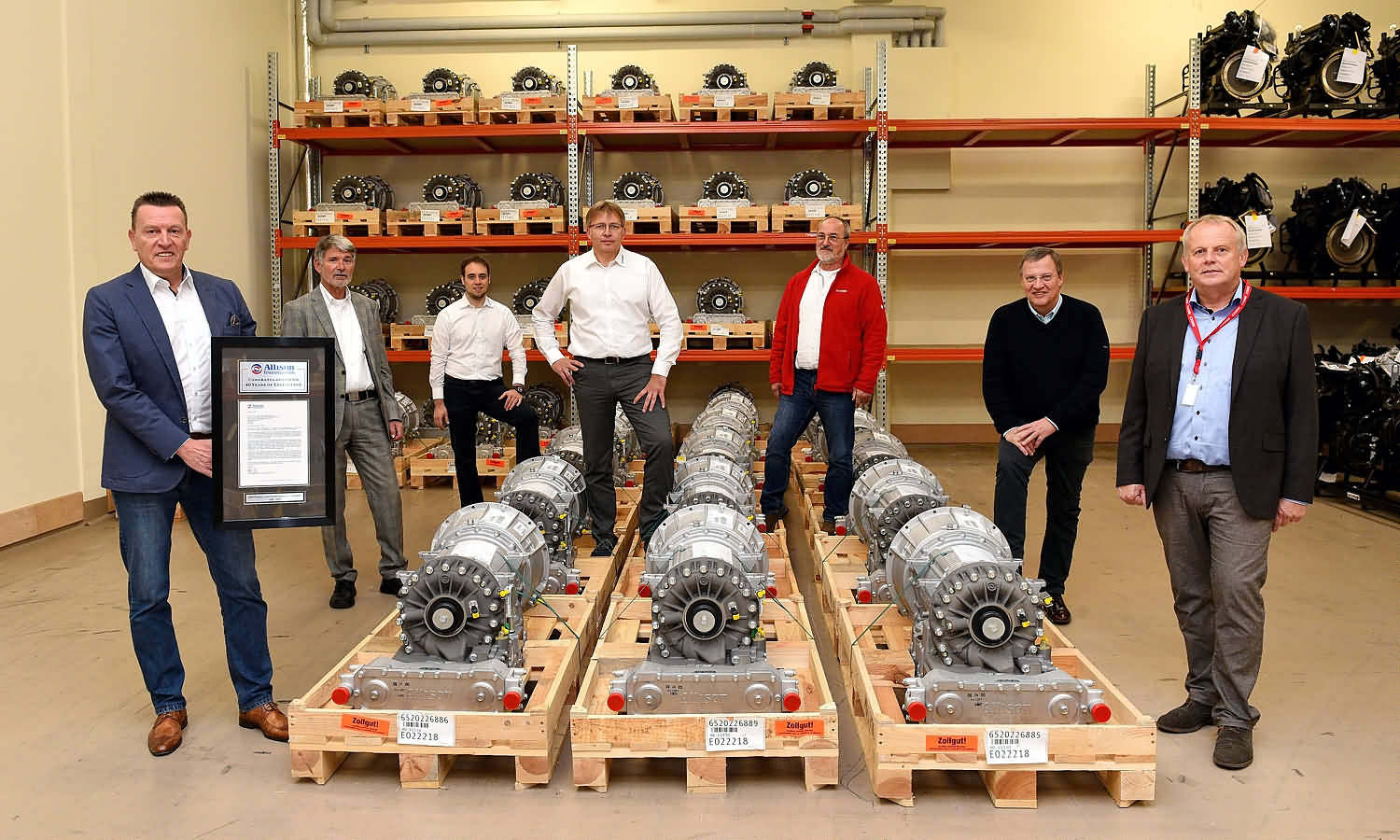 Full power for fully automatic transmissions:
DGS and Allison Transmission celebrate their 40-year partnership
DGS Mainz, the main authorized dealer for Allison Transmission in Germany, celebrates its 40th anniversary. From Allison 9000 Series™ automatic transmissions for dump trucks in Siberia, 3000 Series™ transmissions for municipal vehicles in Frankfurt, reversing transmissions for double-head buses on Mont Saint-Michel, 4500 series transmissions for AT cranes in the Black Forest or hybrid systems for city buses in Bochum - there is no Allison product and hardly a transmission application in which the company has not been involved. Since its foundation in 1980, DGS has evolved from a two-man operation to an internationally renowned provider of solutions for drive train-related issues. The planned large celebration of the 40th anniversary of the company had to be cancelled due to the COVID-19 pandemic, but the occasion was nevertheless properly marked with a small ceremony.
Mainz, November 2020 – Established in 1980 by two brothers, Dr. Hansjürgen Friedrich and Dipl.-Ing. Karlheinz Friedrich, DGS Diesel- und Getriebeservice GmbH, has grown to an internationally operating specialist for commercial vehicle transmissions and engines with around 90 employees. Since its inception, DGS has been the authorized dealer of Allison Transmission, the leading manufacturer of fully automatic transmissions for commercial vehicles.
It was not the proverbial garage, but a corner in a car dealership in Mainz that marked the beginning of the successful long-term relationship between DGS and Allison, then known as Detroit Diesel Allison, which officially began on January 1, 1980. The former US Army's production plant for armored vehicles in Mainz had an urgent need for spare parts and was the most important customer initially. Daimler, MAN and Iveco gladly employed the services of the newly established company's transmission support and Liebherr purchased transmissions for various crane models. Other renowned original equipment manufacturers followed suit. In late autumn 1980, DGS built its own premises in Mainz-Hechtsheim, situated on a greenfield site, which was continuously developed and modernized through the years. In 2011, with the business bursting at its seams, DGS management decided to build a new facility. On completion in 2013, the floor space had increased by 100 percent. At present, DGS has approximately 4,500 qm of floor space consisting of workshops, training and administration facilities, sales, warehouse, etc. The total area of the company premises is 10,000 qm.
Allison's fully automatic transmissions are used in a wide range of truck, bus, military and specialty applications. In order to provide local fleet operators and vehicle manufacturers with comprehensive customer service and technical support, Allison maintains a network of authorized dealers and service centers worldwide, which has been continuously expanded over the years. DGS, the main authorized dealer in Germany manages a network of eight additional sales and service partners from Mainz and plays a key role in supporting Allison customers. Acting as a link between transmission manufacturers, original equipment manufacturers and end users, DGS coordinates the other Allison service centers in Germany and provides support for all Allison transmission series. In 2003, DGS also opened a branch office in Moscow, which currently has 20 employees and supports Allison's transmission customers in Russia and the CIS states.
"We are the extended arm of Allison Transmission, so to speak, and the satisfaction of our customers has absolute priority. We can emphatically say that we and our whole team are absolutely passionate about what we do," said Thomas Moritz and Hermann-Josef Stein, DSG Managing Directors.
The key areas of the company are transmission sales, maintenance and repair. However, the project planning of complete drive concepts, installation advice and prototype construction are as important. Customized powertrain solutions are developed based on the respective customer requirements. "The appropriate configuration of the powertrain to best suit the application profile is the be-all and end-all. Configuration is essential for maximum vehicle performance and minimum effort for operators," explains Stein.
DSG carried out development projects on behalf of Allison Transmission with Liebherr, Manitowoc and Demag,as well as with Mercedes-Benz, Iveco and MAN among others. These ultimately led to the release of the series production of Allison's fully automatic transmissions. In addition, DGS develops and designs its own products to expand the application possibilities of Allison transmissions, such as the WG 600 reversing gear box that enables double-steering buses or fire engines to fight tunnel fires to drive forwards and backwards at the same speed. The VG 2600 two-stage transfer case for cranes, rail-road vehicles and various special vehicles for direct mounting on the Allison 4000 Series™ are also in-house development.
"Basically, Allison Transmission provides the hardware, i.e. the transmissions, and we take care of the overall solution from start to finish. We are very innovative and at the same time solidly grounded due to the great responsibility that our customers place on us," said Moritz.
"DGS fully understands the German customers and their requirements. The DGS-team knows how to maximize the performance and durability of our transmissions. It is a great advantage to work with such an experienced and motivated team. We trust each other and there is no problem for which we cannot find a solution together," said Torsten Troebs, Customer Support & Channel Development Manager at Allison Transmission.
Allison fully automatic transmissions with patented torque converter and continuous power shifting provide the perfect features for a wide range of demanding applications. The torque converter smoothly multiplies engine torque during start-up and acceleration. Furthermore, it protects the entire powertrain from jolts and vibrations that would occur during manual gear shifting. The precise crawling speed and precision tuning facilitate working at extremely low speeds. Allison fully automatic transmissions provide seamless, uninterrupted power for increased average speed, higher productivity and driving comfort.
Image: © DGS Diesel- und Getriebeservice GmbH
About Allison Transmission, Inc.
Allison Transmission (NYSE: ALSN) is the world's largest manufacturer of fully automatic transmissions for medium- and heavy-duty commercial vehicles and medium- and heavy-tactical U.S. defense vehicles, as well as a supplier of commercial vehicle propulsion solutions, including electric hybrid and fully electric propulsion systems. Allison products are used in a wide variety of applications, including on-highway trucks (distribution, refuse, construction, fire and emergency), buses (school, transit and coach), motorhomes, off-highway vehicles and equipment (energy, mining and construction applications) and defense vehicles (wheeled and tracked). Founded in 1915, the company is headquartered in Indianapolis, Indiana, USA. With a market presence in more than 80 countries, Allison has regional headquarters in the Netherlands, China and Brazil with manufacturing facilities in the U.S., Hungary and India. Allison also has approximately 1,500 independent distributor and dealer locations worldwide. For more information, visit allisontransmission.com.
About DGS GmbH
DGS Diesel- und Getriebeservice GmbH, headquartered in Mainz, is a specialist for automatic transmissions and diesel engines. In 1980, DGS became the main authorized dealer for Allison Transmission fully automatic transmissions in Germany. The company provides customers in Germany and the EU with engineering, products, service and spare parts. Customers in Russia and the CIS states are supported by the subsidiary NDGS and its branch in Moscow.
For further information, go to www.dgs-mainz.com.