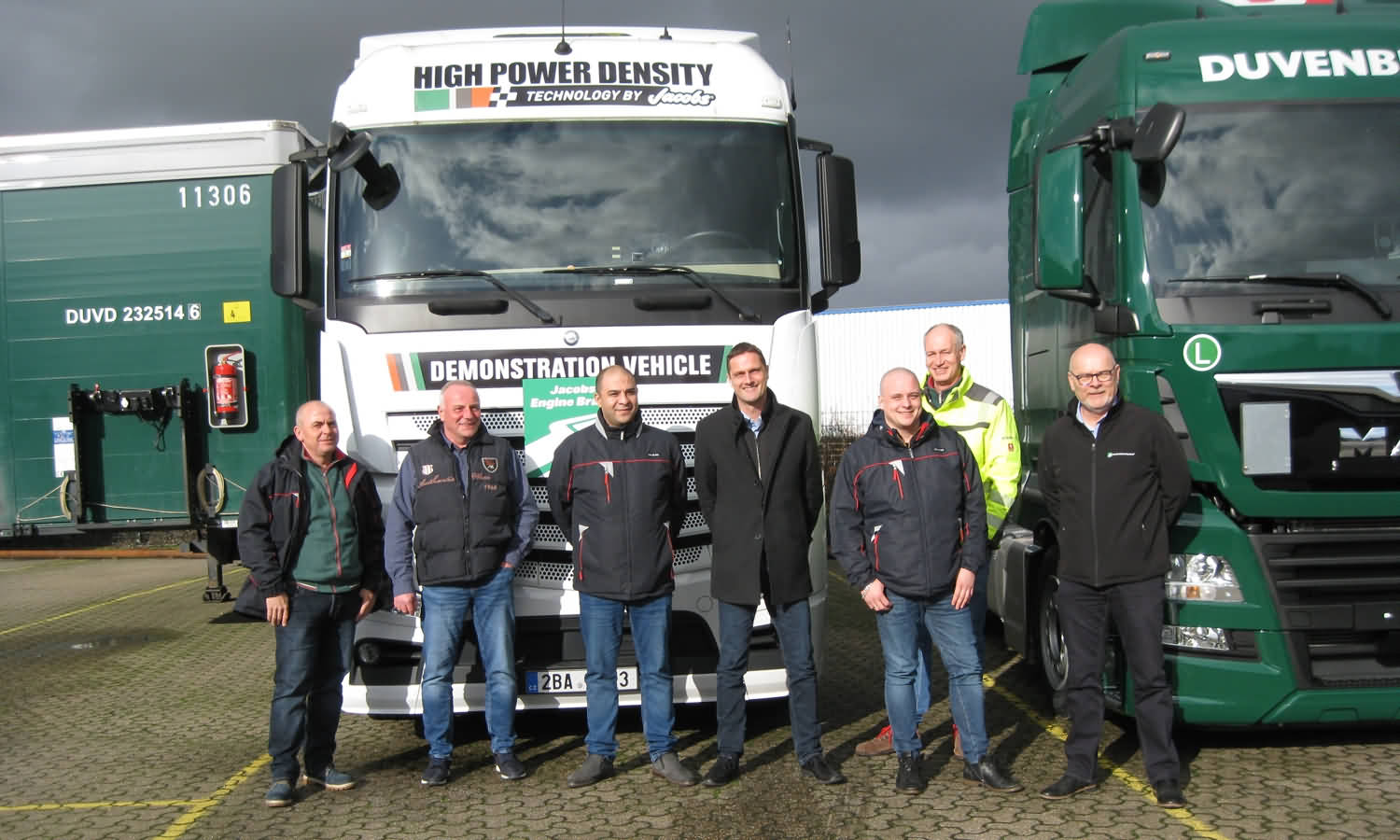 Jacobs Vehicle Systems' new HPD engine brake impresses test drivers
Hauliers in Germany had the opportunity to test the new HPD engine brake (High Power Density) for themselves in a demo truck. The test drivers agreed: HPD has the potential to supersede conventional retarders in the future
BLOOMFIELD, CT, USA − Jacobs Vehicle Systems® (Jacobs), a global manufacturer of heavy-duty diesel engine retarding and valve actuation systems, had its innovative HPD engine brake tested by hauliers. From autumn 2019 to February 2020, the demo truck, a Mercedes Actros 1845 LSN fully loaded with 40 tons, made stops at various hauliers in western Germany so that drivers, driver trainers and management could get a feel for the innovative engine brake during a test drive. So far, all of the test drivers have been surprised by the performance of the HPD engine brake and noted that it is comparable to the braking performance of a retarder.
Jacobs' HPD engine brake generates the same braking power at 1,400 rpm as the currently built-in engine brake generates at 2,100 rpm. This is also confirmed by road tests of hauliers such as Wessels Logistik GmbH, Fendrich Spedition und Baustoffe GmbH, Große-Vehne Transporte + Speditions GmbH and Duvenbeck Consulting GmbH und Co. KG. Following the test drives, drivers reported a smooth and efficient response of the HPD engine brake. An additional advantage of Jacobs' engine brake system is that it delivers one and a half times the braking power of conventional decompression brakes over the entire operating range. At low speeds, it even delivers more than twice the braking power. Furthermore, the brake is an integral part of the engine and weighs only about 10 kg (about 22.04 lbs) which is significantly lighter than a water retarder, which weighs around 175 to 200 kg (385.81 to 440.92 lbs).
The HPD engine brake is very easy to use: As soon as the driver has turned the engine brake switch in the cabin to "on", a lever on the steering wheel controls the requested braking power. The brake is automatically engaged when the accelerator pedal is fully released and disengaged when the accelerator pedal is pressed. This ensures smooth braking and provides safe speed control on downhill gradients, eliminating the need for cumbersome downshifts.
Mike Terbeck, fleet manager at Wessels Logistik GmbH and former commercial truck driver, was impressed by the braking power of the HPD engine brake even at low rpm and states, "The HPD-brake is comparable to a 5-level retarder."
Andreas Fendrich, CEO of Fendrich Spedition und Baustoffe GmbH, was quite skeptical before the test drive. Would it be worthwhile to invest time in such a test drive? His hesitation quickly turned into full approval. "I really did not expect this. Once the HPD- technology is available as standard and the total cost including maintenance are reasonable, I will buy it at once. With HPD, my dumper trucks would finally achieve the same braking performance as long-distance haulage trucks."
Michael Raukamp, haulage manager and authorized officer at Große-Vehne Transporte + Speditions GmbH, made comparisons between the retarder and HPD engine brake and remarked, "The HPD engine brake performs superbly in the lower rpm ranges, so I like it even better than a retarder. The manufacturers of the retarders ought to be wary. When the HPD engine brake is launched into the market, they will probably have to close up shop."
Praise also came from Norbert Bollmann, workshop manager at Große-Vehne: For him, the simple operation, the uncomplicated maintenance and the reliability of the new brake play an important role.
A total of four of the 25 driver trainers of the company as well as Hans-Peter Borchardt, Fleet Risk Manager, took part in the Jacobs' test drive at Duvenbeck. Duvenbeck, one of the largest German logistic companies with more than 1,600 trucks, currently purchases all vehicles with retarders on account of the higher resale value. All test drivers agreed unanimously, however, that this will change as soon as the HPD engine brake is available as standard. The new engine brake has significant benefits for driver trainers such as fewer accidents and easier training for drivers and should be used as soon as it is available from engine and vehicle manufacturers.
Sven Schneider, head of driver training, at Duvenbeck confirms, "The braking power is absolutely impressive, especially when you consider that there were 40 tons in the back. Providing high braking power at lower RPM gives the driver enormous confidence. I expect that the HPD engine brake can significantly improve the safety of driver and vehicle, and I am eagerly awaiting the opportunity to order it." Hans-Peter Borchardt adds, "HPD is simpler to use than a retarder and is, therefore, a benefit in terms of safety, so in addition to the excellent braking performance, this is a major advantage."
In addition to the road tests, numerous OEM development programs in Europe, North America and Asia have already proven that the HPD engine brake technology is superior to conventional decompression brakes and is suitable for both CNG and diesel engines.
Hilko Schmitt, Manager Global Marketing and Business Development at Jacobs Vehicle Systems, outlines the time frame for the introduction of the technology into serial production: "Since Jacobs first introduced this revolutionary 2-stroke technology in 2016, nine active development programs have been signed with OEMs worldwide. These programs encompass all major regions. It is expected that the new brake technology will be phased into the next generation of engines."
North American Technology Tour has been postponed
The kick-off of the North American Technology Tour, originally planned for spring 2020, unfortunately, had to be postponed due to COVID-19. The new US demo truck, a Freightliner Cascadia Class 8 truck, is equipped with the latest technologies to improve productivity and braking performance and reduce fuel consumption and emissions. This also includes the High Power Density engine brake as well as the Active Decompression Technology® (ADT), which allows drivers to experience smoother start-ups with faster starting times and engine shutdown without engine-induced cabin vibration.
Image: © Jacobs Vehicle Systems. After testing the new HPD-technology on the road: Driver trainers of Duvenbeck.